WARNING!!! HexHouse™ is Tulsa's only extreme haunted attraction (not intended for children). HexHouse™ is an intense multi-element, walk-through haunted attraction themed around a dark chapter in Tulsa's haunted past. You won't find any Freddy's, Jason's, or movie scenes in HexHouse™ (nor will you find any cheesy animatronics or goofy props). What you will find is that you've been fully submerged in an altered reality that is much darker and less predictable than anything you've seen in the movies. As you make your way through the flickering hallways and eerie rooms of HexHouse™ (assuming you don't sprint out prematurely), you'll descend from mere creepiness into a full-on, intense nightmare that you won't soon forget.
The goal of HexHouse™ isn't to entertain you, it's to completely remove you from your comfort zone and make sure you know what sheer terror feels like.... and if we don't get you this time... rest assured that next time, we will...
HexHouse™ IS INSPIRED BY A TRUE STORY FROM TULSA'S DARK PAST.

HERE'S THE STORY FROM THE TULSA WORLD (BY GENE CURTIS, 2007):
A 1944 investigation by police revealed a small casket buried in the backyard of a Tulsa house and two young women who had been under hypnotic or occult control for seven years.
The probe was nicknamed the "Hex House" case because police and reporters thought it had all the spooky elements of a Halloween story -- bondage, spell-casting, mesmerism, hypnotism. But this case was real, not a Halloween tale, and led to a short prison term for Carolann Smith, 45, and freedom for the two young women, Nell Willetta Horner, 30, and Virginia Evans, 31, who had been forced to live in an unheated basement of the house at 10 E. 21st St. and to turn over their paychecks to Smith. The young women told authorities they had been led to believe they would receive a great reward in heaven, called the "big payoff," for serving Smith, who apparently had devised a religion of her own. Horner told police that Smith had starved and beat her under the guise of religious purification." The investigation was touched off when Smith obtained eight World War II ration books for herself, the two young women, several fictitious names and for a daughter, Bonnie, that actually was her dog, BonBon. Neighborhood children told Alice Allen, a teacher at Lee Elementary School, where ration books were issued, that there was no Bonnie but that Smith had a dog named BonBon. They also knew that Smith and the two young women had buried a casket in the backyard in the middle of the night. When police investigated, they discovered Horner and Evans living either in the basement or in the servant's quarters and sleeping on orange crates without blankets while Smith lived in luxury. They found 45 pairs of expensive women's shoes, many of them unworn, silverware and glassware, clothing, jewelry, expensive furniture, 18 pairs of new gloves and cash.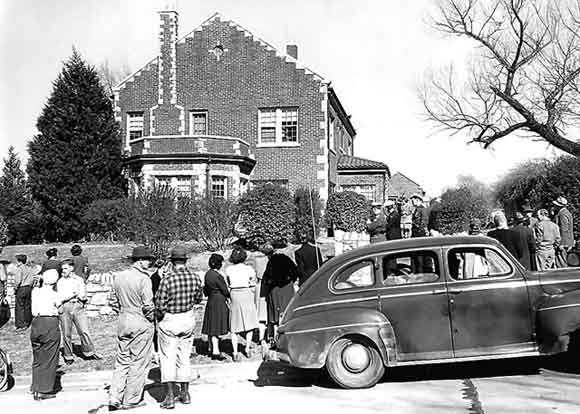 Meanwhile, the young women wore tattered dresses to their jobs and had no cosmetics, although Smith had "enough to stock a drug store." The hundreds of beauty items and perfumes were kept in her bedroom. When they dug up the back yard, police first found a dog's carcass buried in a cardboard box and underneath that a small casket containing the carcass of BonBon that had been buried 5 feet deep. Books dealing with the means of developing will power, magnetism and self-mastery of fate were found in Smith's house. They also found writings by her that dealt with the means by which the human mind could be af fected and about witchcraft and magic. When the case got to court, it was something less than the sensational and lurid case observers expected, but it was still puzzling. The big question, of course, was how did Smith control the two young women? Horner testified she always followed Smith's orders. She said she was told in 1940 to have nothing to do with her family and that from then on her last name was Sherman. She assumed that she had been adopted by Smith, who sometimes used the last name Sherman. Evans testified that "we thought she was leading us into a good life." "She always quoted Scriptures to bring out her point," she said. "They fitted in perfectly with what she wanted us to do."
In addition to receiving the paychecks of the two young women, Smith also received $31 a week from Evans' father for her support and extra money to pay for a nurse. She had written him that Evans was mentally ill and needed a nurse that would cost that amount. A District Court jury found Smith guilty of suborning (inducing) perjury and sentenced her to a year in prison. She pleaded guilty in federal court to a charge of using the mail to defraud Evans's father, a wealthy Stroud merchant, and making false claims to obtain ration books. She was placed on probation for the latter crimes. The subornation charge stemmed from a Municipal Court case in which Evans and Horner testified against a neighbor who lived in the adjoining duplex of the house. He was charged with assaulting Horner. Horner said she and Evans were told exactly what to say in their testimony and that they were rehearsed for hours. She finally typed a script and memorized it, she said.
The "Hex House" was a favorite site for young Tulsans to visit on Halloween for years after the case was settled. But the house was torn down in 1975 and the site became the parking lot for the Akdar Shrine. The Shrine later moved to 27th Street and Sheridan Road and its old site -- where the Hex House had been -- became the site of apartments.